Who We Are
Hello, friend; we are so excited to connect with you here. It feels surreal that we have this opportunity to share our work in this way. Created by knit and crochet pattern designers, inTANDEM is a seasonal periodical that highlights the value of community support and collaboration. Within our first four issues, we have 14 knitting and crochet self-published pattern designers working together to create a collaborative publication. We are "just" regular designers wanting to make a difference in the world, with the goal to create a published and printed collection of designs together: a piece of work you can hold in your hands, feel inspired by, and create beautiful handmade pieces of your wardrobe from.
Within each issue you'll meet six of our designers. We hope you'll read more about us in the introduction to our patterns and choose to connect with us outside this book as well.
Pattern Design Circle
All designers featured within Issues 1-4 of inTANDEM are members of Pattern Design Circle, a community for knit and crochet pattern designers where we are each other's biggest cheerleaders, moral support, and helping hand; we believe our community is stronger when we support each other and work together. So, it was only natural that Pattern Design Circle would become the origin point for inTANDEM.
Pattern Design Circle is the resource hub, learning center, and supportive community for knit and crochet pattern designers. Since its doors opened in September 2021, it's grown to include group coaching, accountability, courses, workshops, and discussions with dozens of business and design guests, but at its core, it's always been centered around community support. That's because the idea was born out of my own struggle to find support as a knitwear designer.
I'd been designing for a few years but was struggling to find a community where I could grow as a designer and an entrepreneur, a space conducive to honesty and vulnerability, where I could feel safe to open up, ask hard questions, and receive help that was truly helpful. Eventually I realized this community was so important that I took the leap and created it myself.
Pattern Design Circle has been the greatest gift of my entrepreneurial journey to this point. The work is meaningful and impactful. It's the fulfillment of a dream I hadn't even dared to dream. My mission has always been to support, inspire, and empower other humans, and that's exactly what I'm able to do inside Pattern Design Circle.
inTANDEM
My brain tends to be the nesting grounds for innumerable ideas, so I initially assumed the idea for inTANDEM would be "just another idea" that sat for years and would maybe come to life sometime down the line. This original idea, which was to create a printed book that could sit on the shelf of a local yarn shop and highlight a few of us lesser-known indie pattern designers, budded around the time I launched Pattern Design Circle.
We don't remember how Beth originally found me online, but our friendship began when she heard about my idea to start a community for designers. She was an instant fan of the idea for Pattern Design Circle. We started connecting on Instagram, and when I shared my idea for inTANDEM with her, she hopped right on board for that idea, too.
Beth had previous experience in publishing, so over the next several months, we exchanged ideas and talked through the logistics of how to make inTANDEM a reality. Before sharing the idea with other designers, I already knew I wanted the theme to be related to collaboration. In January 2022, I surveyed Pattern Design Circle members for interest in the project and held our first virtual meetings to exchange ideas. As a result of those meetings, we created the idea of a seasonal periodical that adds to a maker's entire wardrobe, chose to keep crochet and knitting in separate issues, opted for 4-6 patterns per issue, expressed our interest in working with Malabrigo Yarn, and outlined potential collaboration-related themes.
From there, I continued to meet with designers who were interested in decision-making for the publication, and we nailed down the colors, stitch themes for each issue, and our process for folks to choose what they'd like to design. In the meantime, it became apparent we (the designers) wouldn't be able to fund the project alone, and we decided to launch our idea to the world through Kickstarter.
Through our Kickstarter campaign we shared about our project and our mission. inTANDEM is a designer-led and collaboration-focused publication, with decisions being made by the group of designers to best accommodate their needs. By removing the third party, designers receive compensation for their work directly from inTANDEM's sales and feel invested in the project. Although inTANDEM seeks to embrace the value of the designers and their designs in our community, we hope our message extends farther than that to inspire more collaboration and challenge the traditional standards for collaboration.
In April 2022, we launched our Kickstarter campaign, and within a month, successfully raised the funds to cover all up-front expenses for Issues 1-4. We were blown away by the support we received and saw a glimpse of how impactful this project could be.
Less than a year later, I'm writing this foreword for Issues 1-4. Life is incredible, collaboration is powerful, and we are so thankful to every person who's expressed support for this project.
Kickstarter Supporters
This project wouldn't have come to life without our Kickstarter supporters. Thank you to each supporter of the campaign, and a special thanks to those who chose to support a sponsorship for Issue 1.
Issues 1-4: Movement, Flow, and Dance
Our initial discussions for inTANDEM were focused on the question, "What does collaboration mean to you?" As we discussed our ideas, everything seemed to connect to the visual of a tree. Within inTANDEM, the designers, like roots, unite from various backgrounds and ways of living to connect as a unit (the trunk of the tree) before spreading out as branches, each with their unique art. There's a required movement of ideas and responsibilities throughout the collaboration, like the spread of nutrients within a tree: a need for flexibility to work together for the greater whole, like a tree swaying in the wind. There must be balance between members, so the tree doesn't topple over. And so, the ideas went on, and these illustrations became the basis for yearly themes.
Our first four issues are inspired by movement, flow, and dance: the idea that the members of a successful collaboration must work together with grace, flexibility, and ease. We paint a picture of branches swaying back and forth as if to dance: giving a little here, taking a little there, bending this way with an understanding ear, and bending that way with a request for help. There must be trust and cooperation in the dance.
Malabrigo Yarn
We are elated Malabrigo said "yes!" to our request for yarn support. Malabrgio Yarn generously provided all the yarn to bring the first four issues to life. We were so happy to feature their beautiful hand dyed yarns that have become such a well-known staple in yarn shops around the world, and we were excited to create a year of color from their yarns. Each issue features colors representative of the season, but looking at the colors from the four issues together reveals a complete circle of color, with each issue's colors blending into the next, and Issue 4 looping back to connect with Issue 1.
In case you aren't already familiar with Malabrigo Yarn, here's what they share in the "About Us" section of their website:
"We are a family-owned yarn company located in Uruguay and Peru and we have developed a line of Hand-Dyed yarns of incredible softness and wonderful color variations. Our products are made out of the softest fibers available and inspired by nature, as well as landscapes, places, art and day-to-day life. This is what we try to represent when naming our 21 yarn varieties and the range of over 400 colors they come in.
"We produce yarn because we are passionate about it. We believe in the pleasure of knitting with high-quality, carefully designed, subtly dyed yarns and in the joy of wearing what is created with them.
"Our wish is to continue developing yarns and colors to inspire people all over the world and, in return, be inspired by them."
JESSICA, FOUNDER AND ADMIN
Jessica is the knitting pattern designer behind Snickerdoodle Knits and founder, mentor, podcaster, and cheerleader behind Pattern Design Circle. She always has a million ideas swirling in her head, and she's passionate about connecting and helping other humans. After struggling for years with loneliness and seeking a sense of belonging, Jessica made it her mission to bring folks together. To create the communities where folks know they belong. To give them the tools to feel supported and inspired in their path. She's also passionate about encouraging folks to carve out their path with intentionality. Intentionality in making, in business, and in the world and life we're creating as a whole.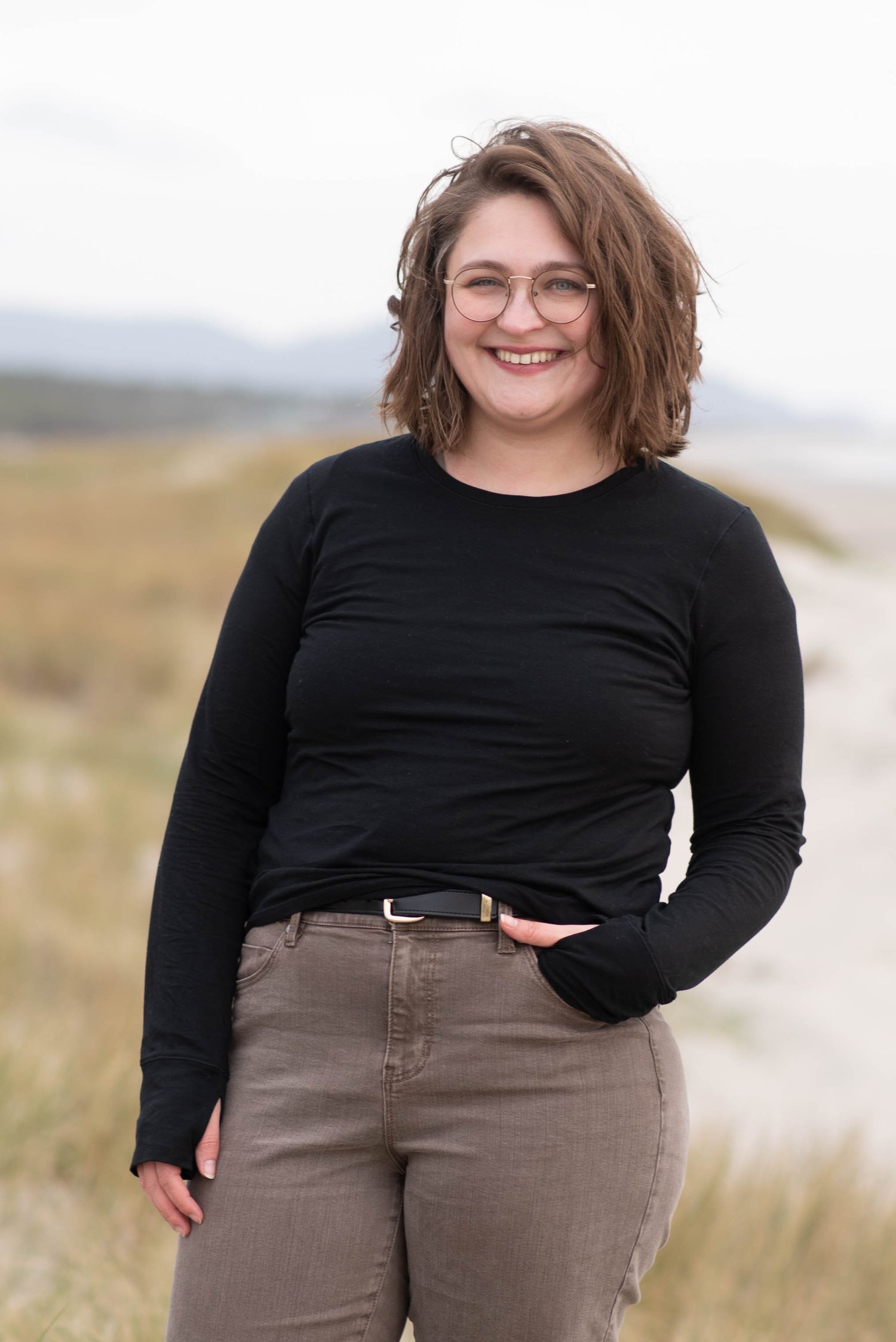 BETH, LAYOUT COORDINATOR AND ADMIN
Beth is the fiber designer, registered architect, maker mama, and creative mind behind Fig & Filament. She firmly believes that the creative brain is a muscle that can be targeted and developed like any other and she's spent the last decade doing just that, both personally and professionally. She designs crochet and knit patterns for play and every day to support creative imagination in yourself and the folks closest to you.